Workshops
We offer FREE Estate Planning Workshops to the public and to allied professionals such as financial planners, CPA's, bankers, and anyone who has a need to assist clients with estate planning and long-term care planning.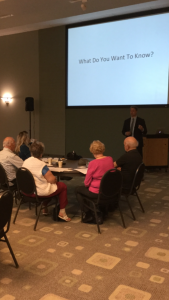 The foundation of our workshops is to inform and educate you on your options so that you can make good decisions for yourself and your family's future, not to sell you on legal services.
"Seven Unforeseen Threats To Your Family's Estate Plan"
This Workshop covers frequently asked questions such as:
Will your estate plan properly protect your beneficiaries' inheritance from in-laws, divorces, lawsuits, creditors, and government claims?
When you're ill or disabled, will you be properly taken care of by the persons you choose, without going to Court and suffering unnecessary delays and attorney fees?
Will your loved ones' inheritance be put to good use, such as completing their higher education, starting a career or business, buying a home, and helping their children do the same, rather than being squandered?
Are your IRAs and company retirement plans properly protected so they may provide tax free growth and much needed retirement income for your loved ones?
Does your plan, if you have one, contain special provisions to protect you and your loved ones from being wiped out by nursing home bills?
What can go wrong with the internet, do-it yourself, or bargain priced attorney plans?
Is a Will or even a Trust a complete estate plan?
What questions should you ask when choosing your estate planning attorney?